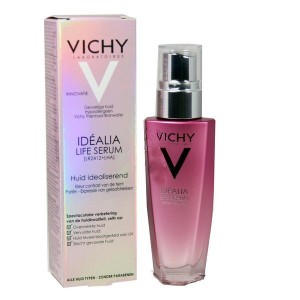 1) NEW! Vichy Idealia life serum
"A serum that leaves the skin instantly smoothed, plumped, fresh and soft. A radiance primer, enriched with golden and red pearls, for an instant ideal skin colour and unsurpassable luminosity and glow. Suitable for all skin types"
After 4-5 weeks: For 38€ this is a good product, it's not a miracle serum but it's well worth trying. It's easily absorbed, it does create a bit of a plumped look thanks to the golden/red pearls and it leaves the skin soft. So, to sum up, I would recommend this to someone who wants to get rid of dullness and who wants to add a bit of life and glow to their skin.
2) Vichy liftactiv retinol ha 0.2%
For every woman who wants intense correction on the look of deep vertical wrinkles, and reveal expressions that are younger, more positive in appearance.
After 4-5 weeks: I cannot say that wrinkles have disappeared, I still fight the few lines on my forehead but I will continue using this product each night because it is definitely helping me achieve clearer looking skin. It helps to even out small tiny lines and it seems to have a brightening effect. Thumbs up!